A trio of dogs who were living in a dump and shared a mattress have reunited a year later and their lives look a whole lot different now. Their rescuers have the photos to prove it.
Ruff Start Rescue out of Princeton, MN shared heartwarming before-and-after photos of the rescue pups on their Facebook page recently and wrote, "The holidays will look a lot different for these rescue pups this year!"
"The first photo shows Cooper, Trixi, and Bruno living in a dump on Christmas Eve 2021."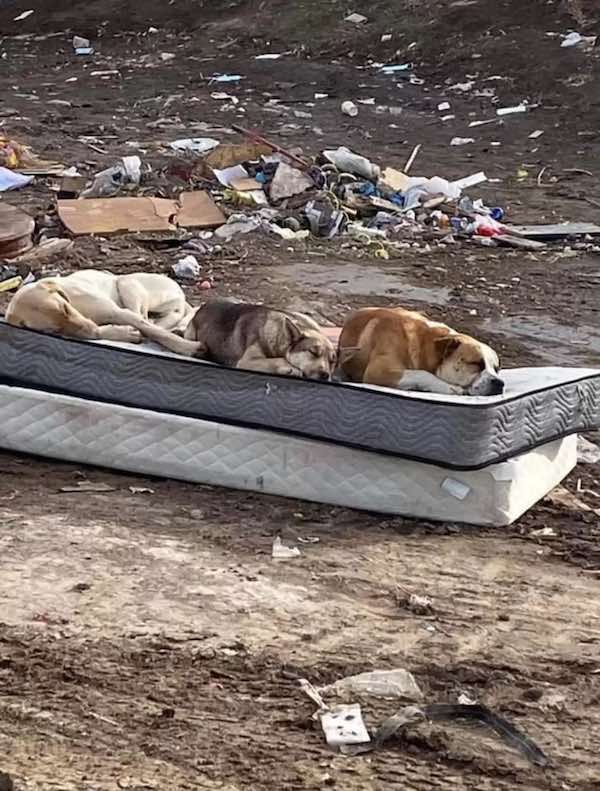 In the photo the dogs are seen sleeping together on a discarded mattress among the garbage. Ruff Start Rescue explained that through "collaborative efforts, all three were rescued and adopted through different organizations."
When the rescue group recently posted a photo update of RSR alum Cooper (the lab mix), their followers asked "What happened to the two other dogs?"
Ruff Start Rescue responded by sharing that "Cooper's adoptive family tracked down Trixi and Bruno and they all reunited last weekend." They shared a heartwarming photo of the three dogs reunited and looking very happy. The group added, "Rescue doesn't get much sweeter."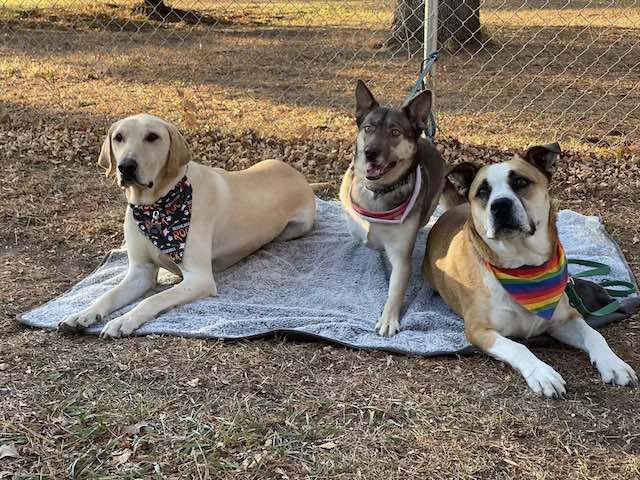 How the three dogs went from sharing a mattress to sharing a reunion turns out to be a story of rescue collaboration done right.
Kelli Hanson, marketing and communications manager at Ruff Start Rescue, shared with The Dodo that the dogs were found at a known dumping spot.
A partner rescue reached out to them for help and Trixi and Bruno were rescued the very same day.
Cooper proved harder to bring in. But a few months later and having survived through the winter, Cooper was looking for them.
"[Rescuers] knew he was still out there so they continued to check for him often," Hanson said. "[By] the end of February, he was ready for rescue and jumped in the van."
It turns out the trio are "three" in more ways than one. Each of the dogs had to have a leg amputated in order to restore their health. Each was lucky enough to find forever homes where they are thriving and being loved.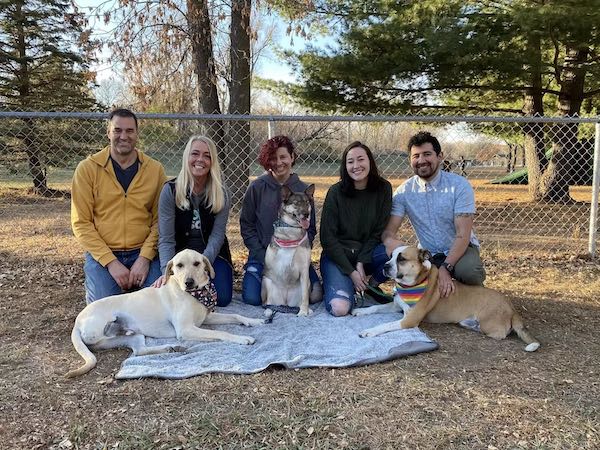 As Ruff Start Rescue said, rescue doesn't get much sweeter than this.