Houston Dynamo's starting lineup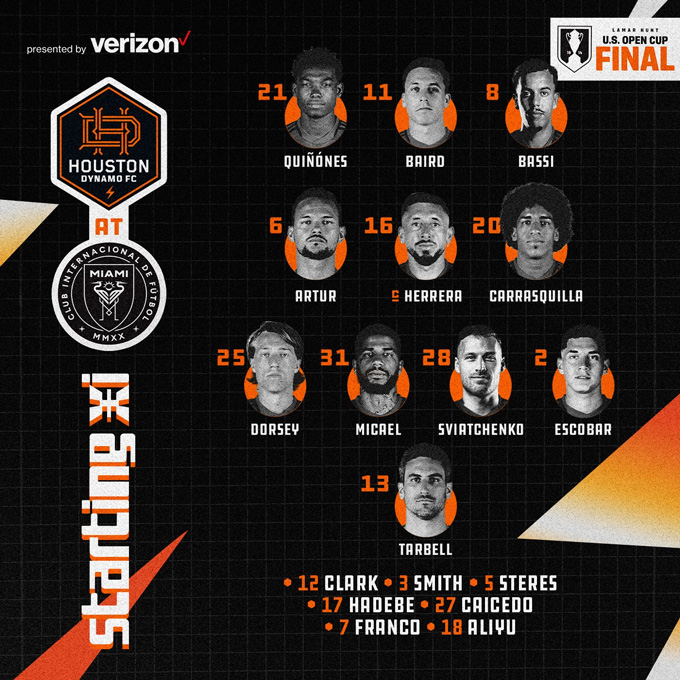 The starting lineup of Inter Miami
Analyze the form of Inter Miami vs. Houston Dynamo
After their impressive 4-0 victory over Toronto on September 21st, Inter Miami's momentum slowed down as they managed only a 1-1 draw against Orlando City. This was a match where the team, led by former football legend David Beckham, was without their star forward Messi and left-back Alba.
In a recent press conference, Inter Miami's coach Tata Martino admitted that he is uncertain whether Messi will recover in time to participate in the upcoming match. However, it's certain that Inter Miami's strength heavily relies on the former Barcelona forward. It's worth noting that before signing Messi, Inter Miami was a fairly ordinary team, but now they have undergone a transformation.
With the addition of the Argentine World Cup champion to their squad, Inter Miami has been winning consistently and is now only one match away from the US Open Cup. When considering all competitions, Inter Miami has displayed remarkable stability with 12 wins (including penalty shootouts) in their last 15 matches.
On the other hand, Houston Dynamo has also been making an impressive impact, having lost only one match and securing five wins (including penalty shootouts) in their last eight matches. With their recent performances, Houston Dynamo promises to be a challenging opponent for Inter Miami. In their three previous encounters, Inter Miami won the first match but subsequently lost the next two meetings to Houston Dynamo.
Match Progress
7:36 AM
The first half begins!!! Inter Miami kick off.
5′
Farias delivers a good cross, but no Inter Miami player manages to take a shot inside the penalty area.
10′
Dangerous. Quinones takes a powerful right-footed shot inside the penalty area, but an Inter Miami player successfully blocks it.
15′
No goal. Callender makes a crucial save for Inter Miami after Quinones' narrow-angle shot inside the penalty area.
17′
No goal. Baird rushes in for a header that just sails wide of Inter Miami's goal after a good cross from Quinones on the left wing.
22′
No goal. Goalkeeper Callender makes two spectacular saves for Inter Miami within seconds after Quinones and Baird's shots.
24′
GOAL!!! Dorsey penetrates the penalty area and unleashes a powerful right-footed shot into the roof of Inter Miami's net.
33′
GOAL!!! Bassi successfully converts the penalty kick to make it 2-0 for Houston Dynamo. Prior to that, Yedlin fouled Quinones inside the penalty area, leading to the penalty kick.
39′
Houston Dynamo completely dominates Inter Miami. The away team is playing as if they're in control, and the 2-0 lead at this point accurately reflects the current situation.
43′
Cresmachi takes a long-range shot, but it goes well over the crossbar. It's Inter Miami's first attempt on goal in the match.
45′
There will be 3 minutes of added time in the first half.
45'+3
Half-time!
Both teams leave the field for a 10-minute break.
46′
The second half is back! Both teams have made no substitutions.
54′
Dangerous. Callender securely holds the ball after a well-placed cross from a Houston Dynamo player on the right-wing. Outside the field, the camera lens keeps turning towards Messi sitting pensively in the stands.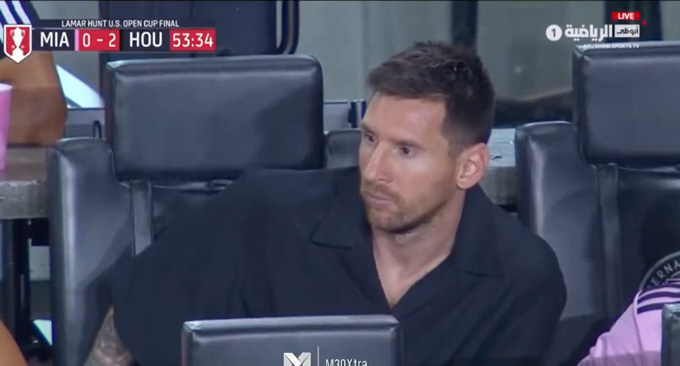 56′
No goal. Martinez heads it off the Houston Dynamo crossbar within inches inside the penalty area. A frustrating moment for Inter Miami.
58′
No goal. Goalkeeper Tarbell makes a save for the away team after Farias' attempt. Inter Miami is increasing the pressure.
68′
No goal. Baird rushes in for a close-range shot that goes wide after a cross from his teammate to the far post. It was a close call, almost making it 3-0 for Houston Dynamo.
73′
GOAL!!! Quinones slots it neatly from a narrow angle to make it 3-0 for Houston Dynamo. It seems to be the final blow to Inter Miami's hopes of a comeback.
75′
After VAR review, the referee determines that Quinones was offside, so the goal is disallowed for Houston Dynamo. The score remains 2-0.
82′
Inter Miami is pushing with all their might in attack but seems to be struggling. The home team appears to lack attacking ideas in the absence of Messi.
86′
No goal. Smith's angled shot hits the crossbar for Inter Miami. It was a close call, almost making it 3-0 for Houston Dynamo.
90'+1
GOAL!!! Receiving a pass from Farias, Martinez shoots past the legs of the Houston Dynamo goalkeeper to pull one back for Inter Miami. The score is now 1-2.
90'+6
Full time!!!
Houston Dynamo win the 2023 US Open Cup with a 2-1 victory over Inter Miami.